---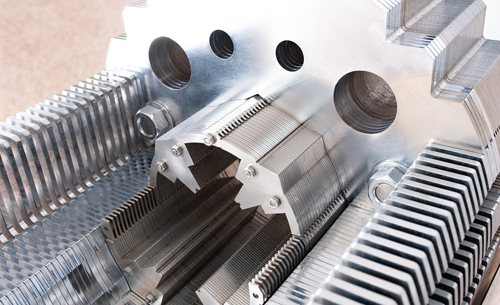 Fine blanking is a metal processing technology that combines elaborateness and precision.
It is possible to provide smooth sheared surfaces and micron levels of accuracy by pressurizing and holding the work material with three hydaulic operations called triple action and punching the die parts with a minimum clearance.
We have worked with many difficult to process metals including special steels, stainless steels, and super alloys, as well as products with complex shapes.
Fine sheared surfaces
Precise dimensional accuracies
Feasible of complex forming
Fine Blanking

Conventional Press

Sheared surface

~100%

~30%

Dimensional accuracy
[mm]

±0.01~

±0.05~
Difference between Fine Blanking and Conventional Press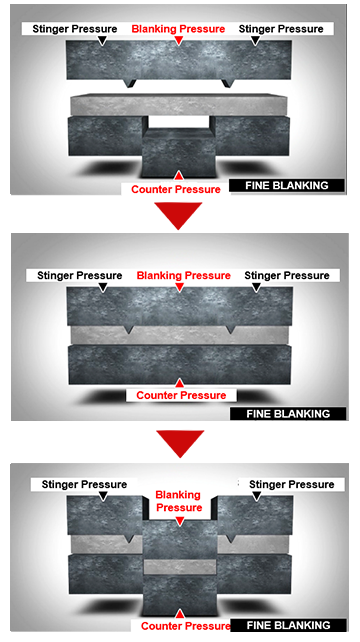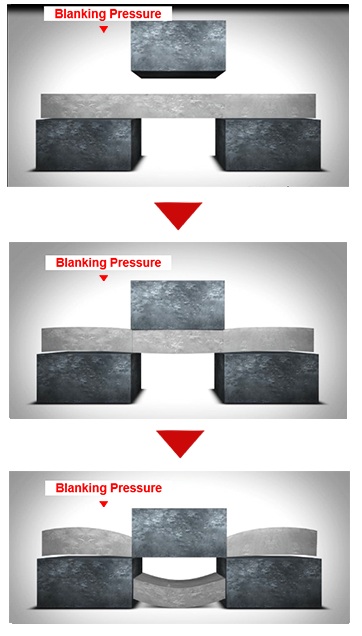 In fine blanking, products are pressed and finished with micron accuracy. Since the sheared surface is extremely smooth, and other types of processing such as crushing and piercing holes can be done simultaneously, it is possible not only to shorten the finishing process but also efficiently manufacture parts with complex shapes.
Our outstanding feature is continuous processing of difficult to process materials.
We mass-produce precision parts mainly made of stainless steel.
By obtaining a fine sheared surface, it is possible to press products with punched side surfaces as functional surfaces and to abolish the finishing process.
Also, it is expected that the process will be reduced and the material yield will be improved by changing the construction method from casting and forging materials.
With press machines ranging from 200 to 1000 tons, we can select an equipment based on product's quantity and shape.
We will meet your needs from small lot production to mass production.
Apply for difficult to process materials (stainless steel etc.)
Feasible with superalloys
Forming by progressive process (Patented Tech.)
Feasible with hole tolerance 15μm
Feasible of crushing and chamfering
Achieved blanking of thick material (13mm max.)
We will make the best proposal based on shape, material, and quantity required by customers.
Starting with stainless steel as a whole, we work with various steel types such as carbon steel, heat resistant steel, and special steel.
We use materials from overseas manufacturers to strengthen our competitiveness.
Achieved blanking thickness of 2mm to 13mm.
Achieved blanking product dimension from 8mm to 190mm.